Pork Chops with Lemon Soy Glaze
Sesame Basmati Rice
Sautéed Butternut Squash, Oriental
Sesame Basmati Rice
Total time: 20 minutes
   Something as easy as a bit of soy sauce, some sherry and a sprinkling of sesame seeds can elevate simple Basmati rice to a gourmet level.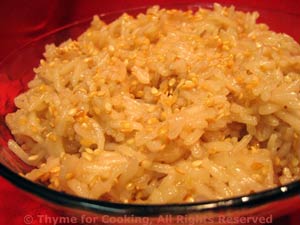 Ingredients:
1/2 cup (3.3oz, 95gr) Basmati rice
1 tsp sesame oil
1 tsp butter
1 cup (8oz, 240ml) chicken stock
1 tsp soy sauce
1 tbs dry sherry

1 tbs sesame seeds

  

toasted is nice
 Instructions:
Melt butter in small saucepan with sesame oil over medium heat. 
Add rice and sauté, stirring for 1 - 2 minutes. 
Add stock, soy sauce and sherry. 
Cook rice for length of time on package. 
When done fluff with a fork, add sesame seeds, fluff some more and serve.
To toast sesame seeds:  Put them into a dry, nonstick skillet over medium heat.  Toss or stir them about in the pan until lightly golden, about 5 minutes.