Orange Glazed Turkey Cutlets
Basmati Rice Pilaf
Green Beans with Mushrooms
Rice Pilaf, Oriental
Total time: 25 minutes
    It's a simple thing: first sauté the shallot and garlic, then sauté the rice; but it mellows the garlic and shallot and imbues the rice with their scents, more than just cooking together would ever do.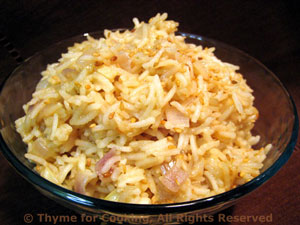 Ingredients:
1/2 cup (3.3oz, 95gr) Basmati rice
2 shallots
2 cloves garlic
1 tbs butter
1 cup (8oz, 240ml) chicken stock
1 tbs sesame seeds
2 tsp Teriyaki or soy sauce
 Instructions:
Finely chop shallots and mince garlic (see techniques). 
Melt butter in small saucepan over medium heat.
Add shallots, garlic and sauté about 5 minutes, or until softened.  
Add rice and sauté, stirring for 1 minute longer. 
Add stock, cover and cook rice for length of time on package. 
When done stir in sesame seeds and soy sauce, fluff with a fork and serve.
Note: You can toast regular sesame seeds in a small, dry, skillet over medium heat for 5 - 7 minutes, until light brown.