Lemon and Mint Basmati Rice
Total time: 20 minutes
   The lemon and herbs combine to make a very refreshing, light rice side dish. Only use the mint if it's fresh, dry is too strong.  If you don't have fresh mint use thyme.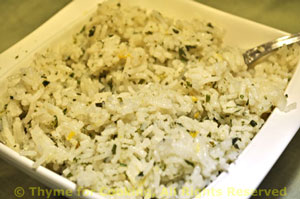 Ingredients:
 Instructions:
Snip mint and chives with sharp scissors if using fresh.
Using a lemon zester or grater, make 1 tsp lemon zest; set aside.
Melt butter in small saucepan over medium heat. 
Add rice, sauté, stirring, for 1 minute. 
Add stock and dried herbs.
Squeeze the juice from 1/2 lemon and add to the rice (mind the pips). 
Cover and cook for 15 - 20 minutes (or length of time on package).
When rice is almost finished, stir in fresh herbs and lemon zest. 
Cover and finish cooking.  
When done fluff with a fork and serve.