Warm Spinach Salad
Sautéed Sole with Lemon Butter
Carrot and Basmati Rice Gratin
Carrot and Rice Gratin  
Total time: 55 minutes
    This is somewhere between a soufflé and a pudding.  The carrots retain their texture and add a slightly sweet flavor to the rice.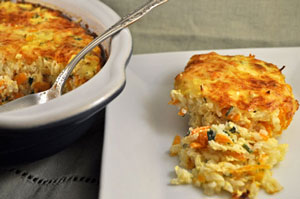 Ingredients:
1/2 cup (3.3oz, 95gr) Basmati rice
1 cup (8oz, 240ml) chicken stock
2 medium carrots
1 cup (8oz, 240ml) milk
2 eggs
1 tbs chives, fresh or dried
1/2 tsp dried thyme
1/2 cup (4oz, 120ml) Greek or plain yogurt or sour cream
1/2 cup (2oz, 60gr) shredded cheese
1/2 tbs olive oil
 Instructions:
Cook rice in chicken stock.
Peel carrots and shred using medium holes on the box shredder. 
Lightly whisk eggs. 
Add milk, yogurt and herbs, whisk to combine. 
When rice is done, stir in the carrots and let sit for a minute to cool slightly. 
Add the rice and carrots to the eggs along with half of the cheese. Stir well.
Lightly oil a glass baking dish (1 qt, 1 litre). 
Spoon carrot-rice mixture into dish, sprinkle with remaining cheese and bake, uncovered, 400F (200C) for 30 minutes. 
Remove and serve.