Grilled Chicken Breasts with Mustard Sauce
Barley with Zucchini (Courgette) and Tomato
Barley with Zucchini (Courgette) and Tomato
Total time: 20 minutes
     Healthy barley combined with summer's bounty makes an easy, colorful side dish.  Can be served hot or cold.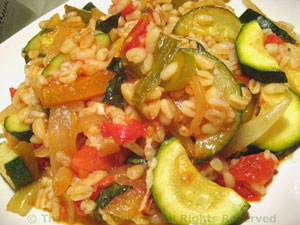 Ingredients:
2/3 cup (3.3oz, 95gr) 1/2 cup quick-cooking barley
1 1/3 cups (11oz, 330gr) chicken stock (or more, depending on type of barley)
1 medium zucchini (courgette) about 8 " (20cm)
1 large tomato
1 medium onion
1/2 green bell pepper
2 cloves garlic
2 tbs fresh basil
2 tsp olive oil
2 tsp white Balsamic vinegar
 Instructions:
Cook barley in stock until done, stirring occasionally. If all stock is not absorbed, drain.
Slice zucchini in half the long way and then into 1/4" (.6cm) slices. 
Slice the pepper into strips. 
Cut the onion in half, then slice. 
Mince the garlic. 
Cut the tomato into large chunks. 
Heat medium nonstick over medium heat. 
Add oil, onion, pepper and sauté until starting to get tender, about 5 minutes. 
Add garlic, zucchini and sauté until zucchini starts to get limp, about 5 minutes.  Add tomato, basil, cover and cook until tomato gets soft, 4 - 7 minutes longer. 
To finish:
When barley is done put into a medium bowl. 
When zucchini is done add to barley and gently stir in vinegar and serve.