Grilled Ham with Red-Eye Glaze
Barley Pilaf
Grilled Zucchini (Courgette)
Barley Pilaf
Total time: 25 minutes
   Barley is a hearty, nutritious grain; easy to cook and flavorful.  I get the quick-cooking barley which takes 15 minutes.  Here it's cooked in chicken stock with sautéed carrots and onion; a pretty, flavorful side dish.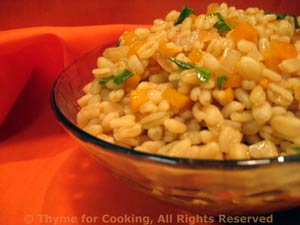 Ingredients:
1/2 cup (2.8oz, 80gr) quick-cooking barley
1 cup (8oz, 240ml) chicken stock (or more, depending on type of barley)
1 small - medium carrot
1/2 onion
1 tbs soy sauce
1 tbs dry sherry
1 tsp dried basil
1 tsp olive oil
 Instructions:
C

hop

onion and carrot.

Heat oil in a small saucepan.  Add onion, carrot and sauté until they start to get tender, about 5 minutes.
Add barley, stock, soy sauce, basil and sherry; stir to combine.
Cover and simmer until barley is done, about 15 minutes or according to package directions. 
Serve.