Twice-Cooked Potatoes
Total time: 40 minutes
    These are slightly different than my usual oven fries, but still crispy on the outside, creamy on the inside; finished with just a sprinkle of salt.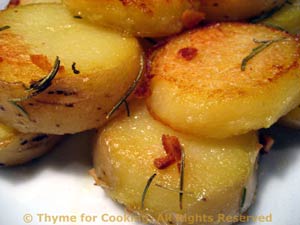 Ingredients:
2 medium potatoes
1 tsp dried rosemary
2 cloves garlic
1 tbs oil
salt - sea salt is nice
 Instructions:
Cut potatoes in half (the short way).
Put into a saucepan, cover with water (add a pinch of salt) and bring to a boil over medium-high heat. 
Partially remove cover and continue to cook until barely done - about 15 minutes. 
Drain, cover with cold water and drain again. 
Let rest for 5 minutes, (or longer) then cut into slices 1/2" (1.25cm) thick - about 3 slices per half. 
Mince garlic.
Heat oil over medium-high heat in large, nonstick skillet. 
When hot add potato slices (placing each flat), rosemary and garlic - sprinkling over potatoes and into oil. 
Sauté until lightly browned, 6 - 8 minutes. 
Turn and brown other side. 
Sprinkle with salt and serve.