Leek Gratin
Lamb Chops with Lemon and Rosemary
Roasted or Grilled Sweet Potatoes
Baked Tomatoes
Grilled or Roasted Sweet Potatoes
Total time: 40 minutes
   These get a bit crusty on the outside and incredibly soft and creamy on the inside.  Yes, the skins are edible and good for you ;-))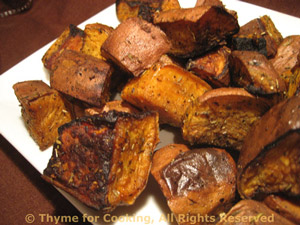 Ingredients:
2 sweet potatoes
1 tbs olive oil
1 tsp herbes de Provence
salt and pepper
 Instructions:
Slice potatoes in half the long way, then in half the long way again.  Then cut into chunks 1 - 1 1/2" (4cm) wide.
Put remaining ingredients into large bowl and mix well. 
Add potatoes and stir, coating thoroughly. 
Barbecue Grill:
Put them into an old metal pie plate or cake tin or foil barbecue container.  Cook on barbecue (grill) for 30 - 35 minutes or until done... and you will need to stir them with a long-handled wooden spoon occasionally as they tend to develop 'hot spots' and can get a little crispy. 
Oven:
Arrange potatoes on baking sheet with rim (I use my trusty, round pizza pan) Bake at 400F for 30 minutes.  You can turn once if you like to fuss but I usually don't bother. Remove from oven and serve.