Tomato Consommé
Grilled Hens with Molasses Glaze
Pesto Potato Salad
Green Beans with Butter and Pine Nuts
Pesto Potato Salad
Total time: 25 minutes
   Pesto is not just for pasta!  A spoonful in this or that adds a depth of summery basil flavor.  Or use a lot, for this creamy potato salad.  As usual, we try to keep the calories and fat down by using yogurt rather than mayonnaise.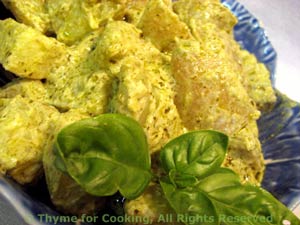 Ingredients:
2 medium potatoes, about 12oz (360gr)
1/4 cup (2oz, 60gr) pesto
1/4 cup (2oz, 60gr) Greek or plain yogurt
 Instructions:
Slice potatoes for salad.
Cook in boiling, salted water, partially covered, until done, 10 - 12 minutes. 
When done, drain and put into serving dish.
Mix pesto and yogurt.  Add to potatoes and stir gently to coat.  Serve.
Homemade Pesto 
Time: 10 minutes
 Ingredients:
 Instructions:
Put everything but the oil in a blender.

Add 1/2 cup oil and blend.  Add more oil as needed.  It really depends on how tightly you packed the basil.  I used 1 cup of oil.

 

It will keep about a week in the refrigerator, up to 9 months in the freezer.