Hot German Potato Salad
Total time: 35 minutes
    Potato salads are always popular in the summer and every country seems to have their own version.  Germany is lucky enough to have 2: German Summer Salad, which is normally served at room temperature, and this one, traditionally served hot.  We usually eat it cold the second time... This makes enough for 2 meals.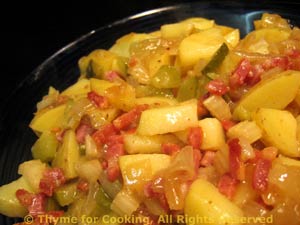 Ingredients:
 Instructions:
Slice potatoes - the long way, first in half, then in half again.  Now slice (the short way) about 1/4 inch thick.  We are aiming for bite size so if you have a huge potato, adjust accordingly.
Put in a steamer basket over an inch of water and steam over medium heat for 15 minutes or until done.
Chop onion, celery and pickle. 
Sauté bacon in oil in medium skillet. 
When done remove and set on paper towels to drain. 
Remove all but 1 tbs oil from pan.  Add onions, celery to pan and sauté until tender, 10 - 15 minutes. 
Add sugar, stock and vinegar, stirring and scraping up any brown bits on bottom of pan. 
Dissolve cornstarch in stock and add to pan stirring constantly to thicken. 
Add pickles, potatoes and stir gently to combine. 
Remove from heat. 
Crumble bacon and add to potatoes. 
Stir to mix and serve.