Warm, Stuffed Courgette (Zucchini) Cups
Grilled Tuna with Mustard Sauce
Potato Salad with Mushrooms and Chevre
Potato Salad with Mushrooms and Chevre
Total time: 30 minutes
    Warm, crisp, sautéed potatoes, mushrooms and garlic enveloped in creamy, melted soft goat cheese, finished with lots of fresh basil and chives - this is not your ordinary potato salad.  Full of complex flavors, it is best served with simple, grilled meat of fish.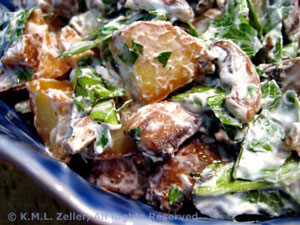 Ingredients:
2 medium potatoes, about 10oz (300gr) total
3oz (90gr) mushrooms
2 cloves garlic
2oz (60gr) soft goat cheese (chevre)
handful fresh basil leaves - about 3 tbs
2 tbs fresh chives, snipped
2 tbs olive oil
 Instructions:
Slice potatoes into quarters the long way and then 1/2" (1.25cm) thick slices. 
Trim and slice mushrooms. 
Mince garlic. 
Heat 1 tbs oil in large nonstick skillet over medium heat.  Add mushrooms, garlic and sauté until they start to brown, about 5 minutes. 
Remove to a bowl and set aside.  Do not cover.
Add remaining tbs oil and potatoes to skillet.  Toss a bit to coat potatoes with oil, then cover and let cook about 10 minutes. 
Uncover, stir and let sauté, turning occasionally.  You want them nice and brown.  If they start getting too brown before you are ready to finish just turn the heat to low and keep warm in the skillet. 
When ready to finish add potatoes to mushrooms and garlic. 
Add chevre and toss to coat - the cheese will melt a bit from the heat of the potatoes.
Snip basil and chives with scissors and add, stirring to combine.  Serve.