Patatas Castellanas (Castilian-Style Potatoes)
Total time: 30 minutes
    These flavorful potatoes, are braised in a skillet with paprika, garlic and onion, with a bit of flour to thicken. Great served with spicy pork or chicken.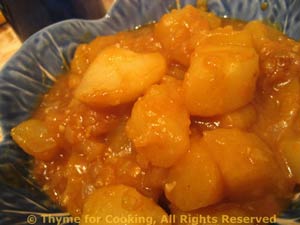 Ingredients:
2 medium potatoes
1/2 onion
2 cloves garlic
1 tsp paprika
2 tsp flour
1 tbs olive oil
1/3 cup (3oz, 90ml) chicken stock
 Instructions:
Finely chop onion and garlic.
Cut the potatoes into 1/2" (1.25cm) cubes.
Heat oil in medium nonstick skillet or large saucepan.  Add oil, onion, garlic and sauté briefly.
Add potatoes and sauté 5 minutes.
Add paprika and flour, stir well and sauté 1 minute.
Add chicken stock and stir well. 
Cover and cook until potatoes are tender, about 15 minutes.  Most of the stock should be absorbed.  Check them periodically, if they start to dry out too soon add a bit more stock. 
When potatoes are tender if there is still a bit of stock left, uncover and cook it off. Serve.