Faux

Patatas Bravas 

Total time: 35 minutes
   These are not as hot as the 'real' ones in Spain.  If you would like more heat add red pepper flakes or a few drops of bottled hot sauce.  The translation is 'Fierce Potatoes' (not 'brave'). The Pimiento Sauce is enough for 2 dishes.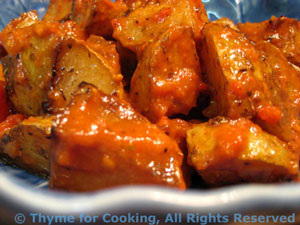 Ingredients:
2 medium potatoes
1 tbs olive oil
2 tsp Herbes de Provence
1 tbs sherry vinegar
1 tsp paprika   

smoky if you have it

Pimiento Sauce: 
4oz (120gr) pimento (pimiento) or roasted red peppers
1 cup (8oz, 240ml) tomato sauce 
1 shallot
2 cloves garlic
2 tsp olive oil
1 tsp oregano
1 tsp chili powder
2 tsp Balsamic vinegar

Red pepper flakes,

if you want more heat
 Instructions:
Cut potatoes into large pieces. 
Whisk together the oil, herbs and vinegar. 
Add potatoes and toss to coat. 
Cook in grill pan on barbecue grill about 25 minutes or until done and starting to brown and get a bit crispy. 

Or

you can roast them in the oven:  Arrange potatoes on baking sheet with rim (I use my trusty, round pizza pan) Bake at 400F for 30 minutes. 
Gently warm 1/3 - 1/2 cup

Pimiento Sauce

. 
When potatoes are done, put into a bowl and pour warmed Pimiento Sauce over - just enough to very lightly coat. 
Sprinkle with paprika and serve.
Pimiento Sauce:
Finely chop shallot and garlic. 
Heat oil in small sauce pan over medium heat. 
Add chili powder, shallot, garlic and sauté until tender, about 3 minutes. 
Add the remaining ingredients and bring to a boil over medium heat. 
Reduce heat, cover and simmer for 5 minutes. 
Purée with blender or immersion blender. 
Leftover Pimiento Sauce can be used with grilled chicken breasts or grilled fish or grilled pork chops.