Parmesan Fries (Chips)
Total time: 35 minutes
    The Parmesan gets very brown and crunchy.  Finish with a light sprinkling of good sea salt.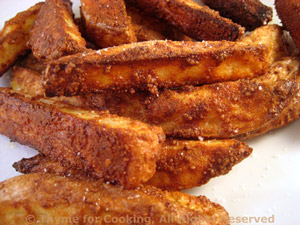 Instructions:
2 medium potatoes, about 12oz (360gr)
1 tbs oil
1/2 tsp garlic powder
2 tbs grated Parmesan cheese
sea salt
 Instructions:
Cut potatoes into sticks - about 1/3 inch (1cm square), no need to be precise. 
Put oil, garlic, Parmesan in a bowl.
Add potatoes and toss well to coat.
Arrange on baking sheet.  Bake at 400F (200C) for 30 minutes.
Remove and serve immediately.