Warm Lentil Salad with Mustard Cream
Brined and Grilled Pork Tenderloin
Roasted New Potatoes
Asparagus with Lemon Sauce
Roasted New Potatoes with Chives
Total time: 35 minutes
   New potatoes are early, tiny, immature potatoes of any color, usually 1" (2.5cm) or less in diameter. They have a high moisture content, are very creamy and usually cooked whole.  If you can't get new potatoes, use regular potatoes, cut into 4ths or 6ths.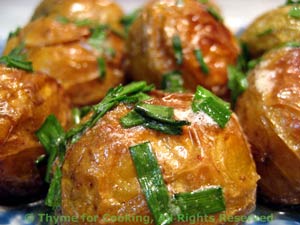 Ingredients:
12 - 18 new potatoes, depending on size  

enough for two people

1 tbs olive oil
1 tbs butter
1 tbs fresh chives, snipped
salt and pepper
 Instructions:
Leave potatoes whole and unpeeled.  Just wash lightly. 
Toss with oil, lightly salt and put into a baking dish large enough for them to be in a single layer. 
Bake at 400F for 30 minutes.  
Stir half way through baking time. 
Remove from oil and put into a small dish. 
Add butter and chives, toss to coat and serve.