Sautéed Chicken Breasts with Bacon and Mushrooms
Roasted New Potatoes
Glazed Carrots and Onions
Roasted New Potatoes
Total time: 35 minutes
  New potatoes are very thin-skinned, immature potatoes.  They have a short shelf life, usually only a few days before they start turning green and need to be added to the compost pile.  You probably can only get them at the farmer's markets - but try, if you can.  They're worth it.  If not, substitute the small 'creamer' potatoes.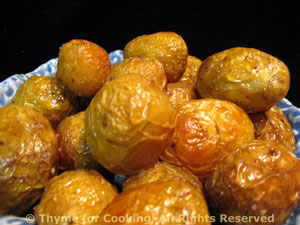 Ingredients:
12 - 18 new potatoes, depending on size  

enough for two people

1 tbs olive oil
salt and pepper
 Instructions:
Leave potatoes whole and unpeeled.  Just wash lightly. 
Toss with oil, lightly salt and put into a baking dish large enough for them to be in a single layer. 
Bake at 400F for 30 minutes.  
Stir half way through baking time. 
Remove from oil, put into a small dish and serve.