Grilled Pork Chops with Peanut Marinade
Grilled Dijon Potatoes
Grilled Onions, Shallots and Tomatoes
Grilled Dijon Potatoes
Total time: 40 minutes
    The mustard keeps these from getting as brown as most grilled potatoes, but it also keeps them very moist.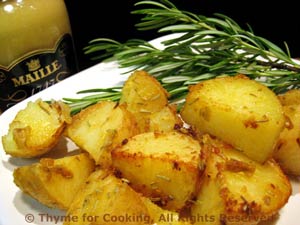 Ingredients:
2 medium potatoes (10oz, 300gr)
1 tbs Dijon-style mustard
2 tbs olive oil
1/2 tsp garlic powder
1 tsp dried rosemary or 1 tbs fresh
 Instructions:
Cut potatoes in 4ths the long way and then in thirds the short way. 
Put remaining ingredients into medium bowl and mix well - it will get thick. 
Add potatoes and toss well to coat. 
Now you have two choices: you can put them in the oven on a baking sheet with lip (trusty round pizza pan) and bake at 400F (200C) for 35 minutes, or put them in an old 'for barbecue only' metal pan and cook over direct heat on the barbecue, stirring frequently until brown and done, 20 - 25 minutes or over indirect heat for 35 - 40 minutes, stirring occasionally.  
Remove from pan and serve.