Zucchini (Courgette) Timbales with Pimiento Sauce
Not-Quite-Naked Steaks
Roasted Potatoes with Basil Butter
Green Beans with Almonds
Roasted Potatoes with Basil Butter 
Total time: 40 minutes
   Potatoes, lightly coated with oil and roasted on the barbecue grill to a golden brown; finished with some fresh Basil Butter: Perfect summer food!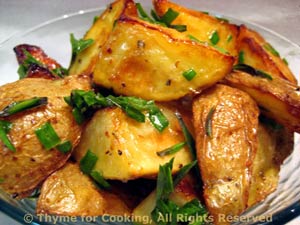 Ingredients:
2 medium potatoes (10oz, 300gr)
1 tbs olive oil
1 tsp paprika
1 clove garlic
1 tbs snipped fresh basil
1 tbs snipped fresh chives
2 tbs soft butter
 Instructions:
Finely mince garlic. 
Snip herbs. 
Mix butter, garlic and herbs, set aside. 
Slice potatoes in half the long way, then in half again. Then slice in half or thirds the short way.
Put oil and paprika into bowl and mix. 
Add potatoes and stir, coating thoroughly. 
Put them into an old metal pie plate or cake tin or foil barbecue container (or whatever) that you will never use for any purpose but the barbecue again...  and you should have one of these.  Cook on barbecue (grill) for 30 - 35 minutes or until done... and you will need to stir them with a long-handled wooden spoon occasionally as they tend to develop 'hot spots' and can get a little crispy.   

Or

you can roast them in the oven.  Arrange potatoes on baking sheet with rim (I use my trusty, round pizza pan) Bake at 400F for 30 minutes.

To finish: 

Put potatoes into a bowl, add basil butter and toss well, to melt butter and coat potatoes.