Mushrooms Stuffed with Bacon and Tomato
Seared Scallops with Prosciutto on Tarragon Cream
Potato Gratin a la Two Fat Ladies
Braised Carrots and Onion
Potato Gratin with Herbs and Garlic
(The Two Fat Ladies)
Total time: 1 hour 15 minutes
    This is something I watched "The Two Fat Ladies" do on their cooking show.  Perfect for late summer, flavored with lots of fresh herbs and garlic; I hope I can do them as well as Jennifer. You can modify the herbs to suit your taste, just use lots!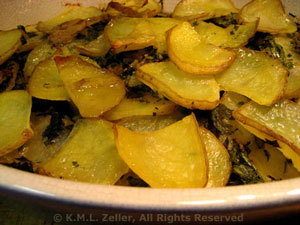 Ingredients:
 Instructions:
With a sharp knife thinly slice the potatoes. 
Put slices in a large bowl of cool water and set aside.
Chop or snip herbs. 
Finely chop garlic and mix together with chopped herbs. 
Remove potatoes from water, lay out on kitchen (paper) towels and pat dry. 
Drizzle a bit of the oil in a glass baking dish, just large enough to hold ingredients. 
Make a layer of potatoes, sprinkle with a bit of the herb/garlic mixture and drizzle with a little oil. 
Repeat 4 more times. 
Pour the stock over all, cover with foil and bake at 400F (200C) for 30 minutes. 
Remove foil and continue baking another 30 minutes.  Top potatoes should start to brown and get crisp. 
Remove from oven and serve.
Note:  I use a scissors to snip the herbs first and use the flat of a large knife to smash the garlic. Then combine the herbs and garlic and chop finely, using a large knife in a 'rocking' motion.