Fried Smashed Potatoes
Total time: 35 minutes
     Boiled potatoes, smashed and fried in butter and olive oil.... A bit of salt and pepper, nothing more...  These are meant to be rough, big chunks mixed with small bits, and brown.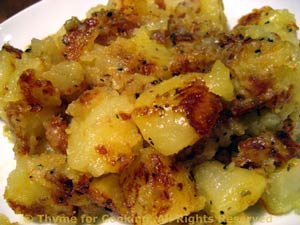 Ingredients:
2 medium potatoes
2 tsp butter
2 tsp olive oil - optional
 Instructions:
Cut potatoes into large chunks and cook in rapidly boiling water until tender, about 15 minutes. 
Cover the pot to start, then partially remove to prevent boiling over.  When done, drain. 
Heat butter in a medium nonstick skillet over medium-high heat.  Add potatoes, and roughly smash down with the back of a large spoon or spatula.
Leave, undisturbed, 5 - 7 minutes, until browning nicely.
With spatula, lift up in sections, turn and smash down again. 
Leave for 4 - 5 minutes and repeat. 
Drizzle with olive oil if you like, and leave for 5 minutes longer. 
Add salt and pepper, remove and serve.