Deviled Pork Chops, Grilled
Sautéed Potatoes, Onions and Mushrooms
Green and White Beans with Tomatoes, Shallots and Sage
Sautéed Potatoes, Mushrooms and Onions
Total time: 25 minutes
   Chopped onion and mushrooms add flavor to simple fried potatoes.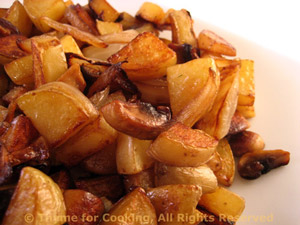 Ingredients:
2 medium potatoes
3oz (90gr) mushrooms
1/2 onion
2 cloves garlic
1 tbs olive oil
 Instructions:
Trim and slice mushrooms. 
Chop onion and mince garlic. 
Sauté onion and mushrooms in oil in a nonstick skillet over medium heat until starting to brown. 
Add garlic and sauté a minute longer.
Slice the potatoes - the long way, first in half, then in half again.  Now slice (the short way) about 1/4 inch thick.  We are aiming for bite size so if you have a huge potato, adjust accordingly. 
Remove onions, mushrooms, garlic from pan and add potatoes - with a drop more oil if needed. 
Sauté potatoes until light brown, stirring and flipping as needed. 
Return onions, mushrooms, garlic to pan.  Continue to sauté until everything is nicely browned and potatoes are cooked through.  
Salt & pepper if desired, and serve.