Omelet with Parsley, Mushrooms and Feta
Sesame-Crusted Salmon
Teriyaki Potato Chips
Sautéed Butternut Squash, Oriental Style
Baked Teriyaki Potato Chips
Total time: 35 minutes
   The Teriyaki Marinade caramelizes on the bottom of the chips, making a chewy crust around the edges.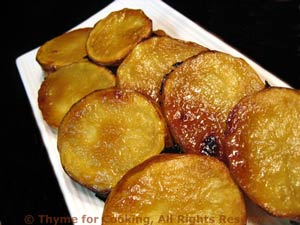 Ingredients:
2 medium potatoes
1 - 2 tbs Teriyaki marinade or sauce
 Instructions:
Slice potatoes in about 1/4 inch (.5cm) thick slices.

(Or a little thinner.)  

Put potato slices and Teriyaki in a bowl and stir well to coat. 
Lay on a nonstick baking sheet (if you have one - just makes it easier). 
Bake in a 400F (200C) oven for 30 minutes. 
Turn half way through if you like. 
Remove and serve.