Potatoes and Carrots with Bay Leaves
Total time: 35 minutes
   The potatoes and carrots are cooked together in stock with bay leaves.  They will absorb most of the stock, giving them a deep flavor and light glaze.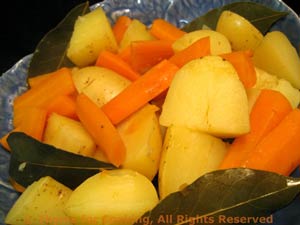 Ingredients: 
2 carrots, cut into large sticks
2 potatoes, cut into large chunks
2 bay (laurel) leaves
enough chicken stock to just cover vegetables
 Instructions:
Put everything into a saucepan and bring to a boil. 
Cook, uncovered, until vegetables are done and chicken stock has been absorbed.  If there is any stock left, pour it off or use it in elsewhere. 
Remove bay leaves and serve.