Potato and Carrot Packets
Total time: 35 minutes
   This is the 'catch - all' for vegetables. Anything works.  Use whatever bits are left in the fridge. This is one of my favorite low-cal, I ate too much over the week-end or whenever, meals.  Add a few pieces of celery, some cherry tomatoes or half of a large tomato, mushrooms, whatever. This is the base recipe...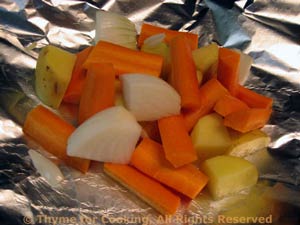 Ingredients:
2 medium potatoes
2 - 3 carrots
1 onion
1/3 chicken stock

2 tsp dried herbs or 2 tbs fresh

 

Whatever fresh herbs you have lurking or dried herbs that tickle your fancy
 Instructions:
Note:  This is 'cooking by sound': When the packets start sizzling, they are cooking.  When they stop, they are done.... But if they don't stop, check them after 25 minutes. 
Just open one part way and poke a knife into the potatoes.  They will continue to cook, after removed from heat, if left wrapped.