Pork Chops with Maple Syrup
Potatoes with Butter and Chives
Broccoli with Yogurt Mustard
Potatoes with Butter and Chives
Total time: 35 minutes
    Simple boiled potatoes with a twist: Sautéed in a bit of butter and topped with freshly snipped chives.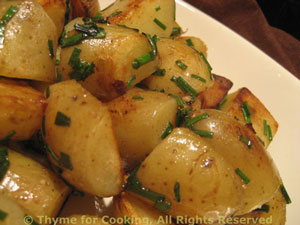 Ingredients:
2 medium potatoes
1 tbs butter
2 tbs snipped chives
salt & pepper
 Instructions:
Scrub potatoes and cut into eighths - we want large but still bite-size pieces. 
Put into a sauce pan and cover with water to which you add 1/4 tsp salt.  Cover and bring to a boil. 
When boiling move cover so it is ajar else the potatoes will boil over.  They will, I promise.   Remove from heat when just barely done - a little under done is good(stick a knife in and test - should go in easily), about 15 minutes.  Drain. 
In medium nonstick skillet melt butter over medium heat.  When hot add potatoes. 
Snip chives with scissors. 
When potatoes are just starting to get a golden color (on one or more sides - about 10 minutes) add chives. 
Turn heat to low and continue to sauté another 10 minutes. 
Remove, add salt and pepper if using and serve.