Chicken with Mustard Sauce
Rosemary Braised Potatoes
Sweet and Sour Brussels Sprouts
Potatoes Braised with White Wine and Rosemary
Total time: 40 minutes
   An Italian winter classic: potatoes braised in white wine with rosemary and just a bit of tomato added at the end to add interest to both the flavor and the color.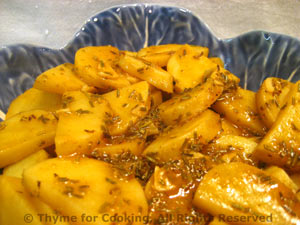 Ingredients:
10oz (300gr) potatoes, about 2 medium
2 cloves garlic, sliced
1 tbs olive oil
2 tsp rosemary
1/3 cup (3oz, 90ml) white wine
2 tsp tomato paste
3 tbs chicken stock
 Instructions:
Scrub and slice potatoes thickly, 1/4" (.5 cm).
Peel and slice garlic as thinly as possible. 
In a medium saucepan, sauté potatoes and garlic in olive oil until lightly golden, about 10 minutes. 
Add wine, rosemary and simmer, uncovered, until wine is almost absorbed, 15 - 20 minutes. 
Mix the stock and tomato together and stir in. Simmer until thick and potatoes are tender, about 10 minutes longer.