Potato and Green Bean Packets 
Total time: 30 minutes
    Vegetable packets are great for using up leftover bits in the fridge: carrots, celery, mushrooms, tomatoes...  They are cooking when you hear them sizzle, and are done when you can't hear them any longer.  They stay very hot in the packets, and can even be taken off early and left to finish off heat.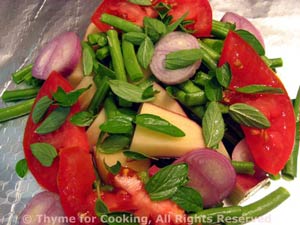 Ingredients:
2 medium potatoes

5oz (150gr) green beans
2 shallots or 1 small onion
1 tomato or 4 cherry tomatoes
2 tbs chicken stock or water
1 tbs basil
 Instructions: