Alsatian Potatoes
Total time: 40 minutes
    Instead of the usual boiled potatoes try this tasty alternative: Potatoes and onions simmered slowly in chicken broth, which they absorb by the end of cooking time.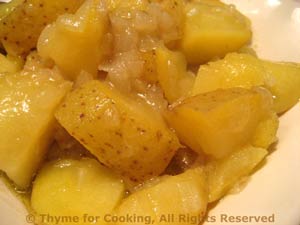 Ingredients:
2 medium potatoes
1/2 onion
2 tsp olive oil
1/2 - 1 cup chicken stock
1/2 tsp thyme
 Instructions:
Chop onion.
Heat oil in small saucepan, large enough to hold all ingredients.  Sauté onion until tender, about 5 minutes.
Cut potatoes into large chunks, about 1" (2.5cm).
Add potatoes to pan, along with thyme and enough of the stock to just barely cover them.
Bring to a boil, then reduce heat and simmer until potatoes are done and stock is absorbed, 25 - 30 minutes.  Mind them during the last few minutes so they don't stick.  Serve.