Warm Lentil Salad with Mustard Cream
Brined and Grilled Pork Tenderloin
Roasted New Potatoes
Asparagus with Lemon Sauce
Brined, Grilled Pork Tenderloin
Total time: 40 minutes  10 minutes earlier 
    Brining keeps meat moist and tender during cooking and is particularly well-suited to pork.  The tenderloin cooks quickly on the barbecue, and the rub adds even more flavors to it. Remember, slightly pink is now okay for pork, and over-cooking can ruin the best efforts....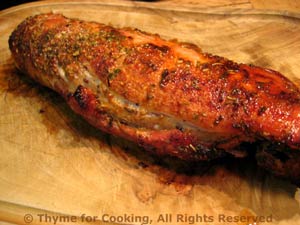 Ingredients:
1 pork tenderloin, 14oz (420gr)
The Brine:
2 cups very cold water or water and ice, mixed
2 tbs sea, kosher or other coarse salt
2 tbs brown sugar
2 tbs molasses
The Rub:
1 tsp paprika
1 tsp dried rosemary
1 tsp dried marjoram
1/2 tsp garlic powder
1/4 tsp dry mustard
 Instructions:
Earlier in the day, at least 2 hours and up to 12 hours before cooking, mix water, salt, sugar and molasses in a deep bowl. 
Stir until sugar and salt are dissolved. 
Add pork, making sure that it's totally covered. 

If not, you can put pork in large zip-lock bag and add brine. 

Refrigerate, turning occasionally, until ready to cook. 
When ready to cook, remove pork and pat dry with paper towels. 
Discard brine. 
Mix all ingredients for the rub and sprinkle on all sides of pork, patting it lightly to stick. 
Cook on barbecue grill for 15 - 20 minutes, turning to brown all sides.  Internal temperature should reach 145F (62C) or until only slightly pink in center.
Remove and let rest a few minutes. 

Carve into 1" (2.5cm) thick slices and serve. 

Could also be roasted in the oven, 400F (200C) 25 - 30 minutes.