Recipe in:
One Dish Dinners
  (Stir-Fries and Skillet Dinners)
Sweet and Sour Pork    
Total time: 25 minutes
    This is not the kind made with canned pineapple, which I think is horrid, but an actual real Chinese recipe.  In the interest of health and simplicity I did not batter and deep-fry the pork first.  I used to. This way is just as good and I don't have to haul 3 cups of hot, smoking oil out to the back garden to toss.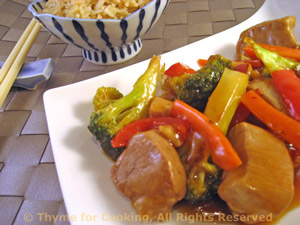 Ingredients:
The pork:
14oz (420gr) lean pork 

I used pork tenderloin

1 tbs oil
1 tbs soy sauce
2 tbs chicken stock
The sauce:
1 tbs oil
2 cloves garlic
2 tsp minced fresh ginger (2 - 3 thin slices, 1" (2.5cm) wide)
1/2 large red bell pepper
1/2 head broccoli
1 medium carrot
1/2 cup (4oz. 120ml) chicken stock
2 tbs brown sugar
2 tbs white sugar
4 tbs red wine or sherry vinegar
1 tbs cornstarch (maizena, corn flour) dissolved in
2 tbs chicken stock
2 tsp soy sauce
 Instructions:
Cut the pork into 1" (2.5cm) cubes. 
Heat oil and soy sauce in nonstick skillet.  Add pork and stir-fry 5 minutes.
Add chicken stock, reduce heat to low, cover and simmer 10 minutes or until done.
Mince garlic.
Peel a small section of ginger,  cut into thin slices, then mince.
Slice pepper and carrot into matchsticks.  (see Techniques) 
Cut broccoli into small florets.
Dissolve cornstarch in chicken stock, soy sauce and set aside.
In large nonstick skillet heat remaining 1 tbs oil over medium-high heat. 
Add garlic, ginger and stir-fry 30 seconds. 
Add carrot, broccoli, pepper and stir-fry 2 - 3 minutes. 
Add stock, sugars, vinegar and soy sauce and bring to a boil, stirring until sugar is dissolved. 
Give cornstarch a stir to recombine and add to sauce, stirring until thickened.  
Remove pork from pan juices and add to sauce. 
Stir well, heat through and serve.