Braised Pork with White Wine, Olives and Sage
Total time: 1 hour 45 minutes
     Braised pork with the flavors of the Mediterranean.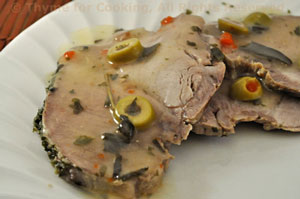 Ingredients:
1 pork loin roast, 24oz  (720gr)

2 tbs persillade 

which is

     1 tbs parsley

     2 cloves garlic - chopped very finely, together

10 - 12 sage leaves 

substitute 2 tbs dried

10 - 12 olives, black or green, pitted or not
1 cup (8oz, 240ml) of white wine
1 tbs olive oil
1 tbs cornstarch (maizena, corn flour) dissolved in 2 tbs chicken stock
 Instructions:
In heavy pot or oven with tight-fitting lid, brown pork in olive oil. 
Mince garlic and parsley.
After turning pork, spread persillade over the top of the pork.  
Add the sage leaves, olives and white wine, turn heat to low, cover and braise for 1 1/2 hours. 
Remove pork and keep warm.  Either use a meat thermometer or slice into the middle to make certain it's done.  Slightly pink is okay.  (If it's not done, cut into thick slices and put back into the pan for 5 minutes.)
Dissolve cornstarch in chicken stock. 
Stir cornstarch into pan juices to thicken.  
Cut pork into thick slices, spoon some of the thickened sauce over the top and serve, remaining sauce on the side.