Barbecued Pork Loin
Total time: 60 minutes
    The Grill Expert came up with the idea of having a very thin basting sauce to keep the pork moist... It worked. The pork is enough for 2 meals.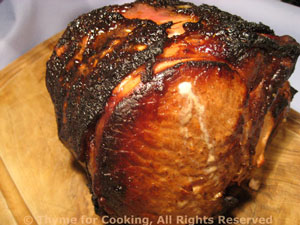 Ingredients:
1 boneless pork loin roast, 32oz (960gr)
2 tsp chili powder
1 tsp garlic powder
Basting Sauce:
3/4 cup coffee
2 tbs soy sauce
2 tbs red wine vinegar
Barbecue Sauce:
1/2 cup ketchup
2 tbs balsamic vinegar
2 tbs molasses
2 tbs soy sauce
3 tbs oil
2 tsp Dijon-Style mustard
1 tsp garlic powder
1 tsp dried oregano
 Instructions:
Mix chili powder and garlic. 
Rub onto pork loin. 
Cook pork loin on barbecue grill, over indirect heat with the cover closed.  Pork is done when it reaches an internal temperature of 145F (62C)  Use an instant read or a remote meat thermometer for best results. If you don't have either, take the roast off and slice into it after 40 - 50 minutes (depending on weight and shape) to test.  It should be almost cooked through with a bit of pale pink in the center.
Mix coffee, soy sauce and red wine vinegar. 
Spoon sauce over pork every 8 - 10 minutes starting immediately.  
In a small bowl whisk together all ingredients for

Barbecue Sauce

. 
Baste pork with 3 tbs barbecue sauce after 40 minutes. Serve the rest on the side.
When pork is done, remove, cover with foil and let rest for 5 minutes. 
Slice and serve, barbecue sauce on the side. 
Could also be roasted in a 400F (200C) oven for about the same amount of time.