Spinach Salad with Sautéed Chicken Livers
Pork Loin Braised with Apples and Onions
Roasted Potatoes
Balsamic Glazed Carrots
Braised Pork Loin with Apples and Onions
Total time: 1 hour 45 minutes
    Apples are traditional with pork, and the flavors, obviously, work well.  Calvados is apple brandy but regular brandy or white wine will work.  We use a bit of apple juice during the winter so, I buy a 6-pack of small juices to have on hand.  Each one is about 8oz.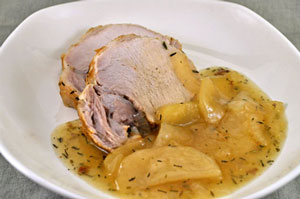 Ingredients:
1 pork loin roast, 24oz (720gr)
1 large onion, sliced 

or 2 small

1 large cooking apple   

Golden Delicious

1/4 cup (2oz, 60ml) Calvados, brandy or white wine
1/2 cup (4oz, 120ml) apple juice
1/2 cup (4oz, 120ml) chicken stock
1/2 tsp thyme
1/2 tsp rosemary
1 tbs olive oil
1 tbs cornstarch (corn flour, maizena) dissolved in 2 tbs apple juice
 Instructions:
In heavy pot or oven with tight-fitting lid, brown pork in olive oil for about 10 minutes. 
After turning pork, add sliced onions around the side. 
Add Calvados, juice, stock and herbs, turn heat to low, cover and braise for 45 minutes. 
Peel apple, cut into quarters and cut out core.  Cut each quarter into 3 or 4 slices and add to onions. 
Cover pork and cook for 30 - 40 minutes longer or until done.  Pork is done at an internal temperature of 145F (62C).  If you don't have a thermometer, cut a slit in the center and look, slightly pink is okay.  
Remove pork, onions and apples to a platter, cover to keep warm.  
Turn heat up under pot, dissolve cornstarch in juice and stir into pan to thicken. 
Slice pork and serve, sauce on the side.