Pork Chops with Tomatoes and Sage
Brown Rice with Sautéed Onions
Butternut Squash with Bacon and Sage
Pork Chops with Tomatoes and Sage
Total time: 25 minutes
     Sage not only goes well with turkey but it's great with pork and most fall vegetables.  Use fresh if you can get it, if not, at least try not to use some that has been in the cabinet for years ;-)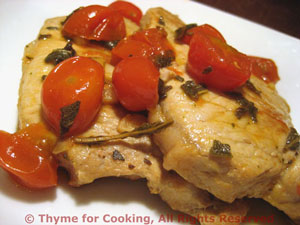 Ingredients:
 Instructions:
Finely chop garlic and roughly chop tomato.
In medium nonstick skillet heat oil over medium-high heat. 
Sauté pork chops until lightly browned, about 3 minutes per side.  Remove and set aside. 
Add garlic and sage to pan and sauté 1 minute. 
Add wine, stock and tomato.  Bring to a boil, reduce the heat to low and simmer about 5 minutes until mixture starts to thicken.  
Return pork chops to pan, turning once to coat with sauce, and cover.  Let simmer 5 - 10 minutes until done. 
Arrange chops on small platter or plate, pour sauce over and serve.