Cheese and Pepper Mini Frittatas
Braised Pork Chops with Spanish Rice
Pork Chops with Spanish Rice 
Total time: 40 minutes
   I use brown rice in this dish.  Mine cooks in 20 minutes and I like the healthy aspect and nutty flavor of brown rice.  You could substitute Basmati, Arborio, or plain white rice.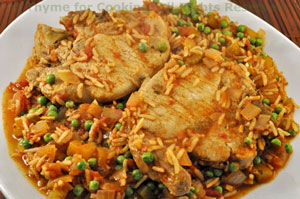 Ingredients:
2 - 4 pork chops, depending on size,  (12oz, 360gr boneless, 16oz, 480gr bone-in)

1 onion
1/2 green pepper
1 rib celery

optional

2 cloves garlic
2 tsp chili powder
1/2 cup (3.3oz, 95gr) brown rice, quick-cooking
1 3/4 cup (15oz, 450gr) whole tomatoes
1 cup (6oz, 180gr) frozen peas 

no sauce

1 tsp Worcestershire sauce
2 tsp olive oil
water or chicken stock, 1/4 - 1/2 cup
 Instructions:
Chop onion, celery and green pepper. 
Mince garlic. 
Heat oil in deep skillet or Dutch oven over medium high heat. 
Add pork chops and brown on both sides, about 5 minutes each.  Remove. 
Add chili powder, onion, pepper, celery and garlic.  Sauté for 5 minutes. 
Open tomatoes and drain into a bowl. 
Chop the tomatoes and drain again. 
Add drained tomatoes, Worcestershire sauce and rice to pan.
Measure the drained liquid and add enough water or chicken stock to equal 1 cup (or however much liquid your rice package calls for). 
Pour this over the rice/vegetables in the skillet and stir well to combine. 
Lay the pork chops on top of the rice and cover. 
Reduce heat to simmer and cook until rice is done.  Stir occasionally while cooking. 
When the rice is almost done, stir in peas. 
Serve from the skillet.