Pork Chops with Rosemary
Total time: 30 minutes
   Browned quickly, then braised for a bit in white wine and rosemary, these come together quickly but are wonderfully tender.  If your chops are quite thick you may want to increase cooking time by 5 - 8 minutes.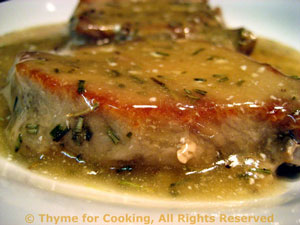 Ingredients:
2 - 4 pork chops, depending on size, 12oz (360gr) total
2 tsp olive oil
1/3 cup (3oz, 90ml) white wine
1/3 cup (3oz, 90ml) chicken stock
1 1/2 tsp dried rosemary
1/2 tsp dry mustard
1 tbs cornstarch (maizena) dissolved in 2 tbs water
1/3 cup (3oz, 90gr) Greek yogurt, or plain or sour cream
 Instructions:
In nonstick skillet large enough to hold the chops heat 1 tbs oil over medium-high heat.  Add chops and sauté about 3 minutes per side, until lightly browned.

Add wine, stock, rosemary and dry mustard, cover reduce heat and simmer 15 minutes. 

or longer

To finish:

Uncover and increase heat.

Dissolve cornstarch in water in small bowl or measuring cup.
Remove pork chops to small platter or plate and cover with the lid.
Add cornstarch mixture to skillet and cook, stirring constantly until thickened.
Remove from heat, stir in yogurt.  Pour over chops and serve.