Pork Chops with Mushroom Pan Sauce
Barley with Red Onion and Olives
Soy Balsamic Glazed Carrots
Pork Chops with Mushroom Pan Sauce
Total time: 35 minutes
    Braised pork chops, with a simple pan sauce of mushrooms, onions and chili powder.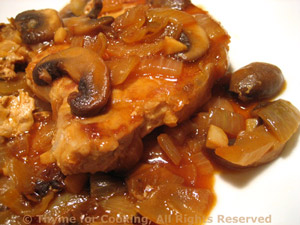 Ingredients:
2 - 4 pork chops, depending on size, 12oz (360gr) total weight
4oz (120gr) mushrooms
1/2 red onion
1 tbs olive oil
1 tsp chili powder
1 tbs Balsamic vinegar
1/2 cup (4oz, 120ml) beef stock
1 tbs tomato paste
 Instructions:
Clean mushrooms, slice thickly.
Roughly chop onion.
Heat oil in large nonstick skillet over medium high heat.  Add pork chops and brown, about 5 minutes per side.  Remove. 
Reduce heat to medium.  Add chili powder and sauté briefly, about 30 seconds.
Add onions and sauté 3 minutes.
Add mushrooms and sauté 5 minutes longer.
Add stock and deglaze pan, stirring up any browned bits.
Add vinegar, tomato paste and stir well.
Return chops to pan, cover, reduce heat and simmer until chops are cooked through and tender, about 15 minutes longer.
Uncover and simmer until sauce is slightly thickened.  Serve.