Pork Chops with Lemon Soy Glaze
Sesame Basmati Rice
Sautéed Butternut Squash, Oriental
Pork Chops with Lemon/Soy Glaze
Total time: 30 minutes
    This has a piquant sauce: dark, spicy, salty, sour, wonderful.  The pork chops I use are thin, about 3/8" (3/4cm).  If yours are thicker increase cooking time to 15 minutes.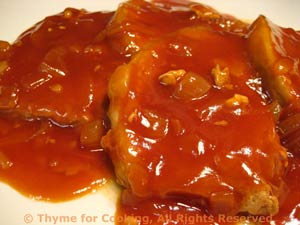 Ingredients:
 Instructions:
Squeeze lemon.
Combine soy sauce, lemon juice, stock and tomato paste in a dish. 
Add pork chops turning to coat and allow to marinate. 
Sauté onion, garlic and ginger in oil in large skillet over medium heat.
Add pork chops (reserving marinade) and brown - pushing onion mixture to sides of pan to prevent burning. 
Add reserved marinade and cook, covered 8 - 10 minutes longer or until done. 
Remove chops from pan. 
Thicken pan juices by adding cornstarch mixture and stirring well.  Pour over chops and serve.