Grilled Pork Chops with Peanut Marinade
Grilled Dijon Potatoes
Grilled Onions, Shallots and Tomatoes
Grilled Pork Chops with Peanut Marinade
Total time: 30 minutes
   Similar to a Satay, this slightly spicy marinade goes well with pork.  For maximum flavor, poke the pork with a fork after adding the marinade to allow it to penetrate the meat.  We had thin chops that cook quickly; try not to overcook, slightly pink is now preferred for pork.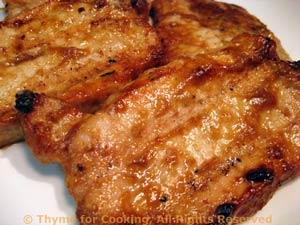 Ingredients:
2 - 4 pork chops, 12oz (360gr) total weight if boneless
Marinade:
1 tbs creamy peanut butter
1 tbs soy sauce
1 tbs red wine vinegar
1/4 tsp garlic powder
1/4 tsp powdered ginger
1 tbs sesame or walnut oil
2 tbs olive oil
 Instructions:
Mix all ingredients for marinade and pour over chops. 
Let marinate for 15 - 20 minutes. 
Cook on barbecue for 5 - 8 minutes a side or until done. Slightly pink is preferred - take a peak (techniques). 

Or

fry in nonstick skillet over medium-high heat the same amount of time.  Serve.