Grilled Pork Chops with Sweet Mustard Marinade
Basmati Rice Red Pepper Pilaf
Green Beans with Garlic and Rosemary
Grilled Pork Chops with Sweet Mustard
Total time: 25 minutes
  Lots of hot mustard is tempered by the sweetness of the marmalade.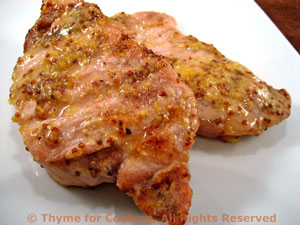 Ingredients:
 Instructions:
In small bowl stir together marmalade, mustards, garlic and oil. 
Spoon over chops and set aside while the grill heats. 
Remove from marinade and cook on barbecue 10 - 15 minutes turning once or under broiler for 12 - 15 minutes turning once - or sauté in large skillet 10 - 15 minutes (you get the picture). 
Baste with any remaining sauce before turning. 
In all cases it depends on thickness and test for doneness by slicing and peaking.
Remove and serve.