Deviled Pork Chops, Grilled
Brown Rice Salad with Green Beans
Tomato Garlic Salad
Deviled Pork Chops, Grilled
Total time: 30 minutes
  Pork chops with a kick, marinated and cooked on the barbecue grill.  If you want them hotter, more 'devilish' you could add a drop or 2 of Tabasco or other hot sauce.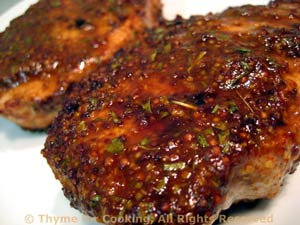 Ingredients:
 Instructions:
Mix all ingredients for marinade and spoon on chops.  Let marinate for 10 - 15 minutes. 
Cook on barbecue for 4 - 7 minutes a side or until done.  Should be slightly pink in center when done - take a peak (techniques). 

Or

fry in nonstick skillet over medium-high heat the same amount of time.