Pork Chops Diablo
Total time: 30 minutes
     Diablo or deviled usually means spicy, often hot and always full of rich, complex flavors.  These zesty pork chops are a perfect example. The ones I get are quite thin.  You may need to increase the cooking time if you are using very thick chops.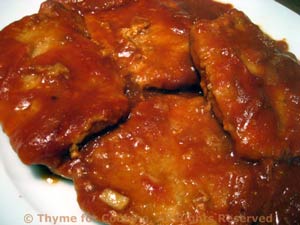 Ingredients:
2 - 4 pork chops, depending on size, 12oz (360gr) total
1 onion
2 tbs chili powder
1/4 cup flour
4 tsp olive oil
1 cup (8oz, 240ml) tomato sauce
1/2 cup (4oz, 120ml) beef stock (broth)
1 tbs Worcestershire sauce
1 tsp dry mustard
1 tbs cornstarch (maizena) dissolved in 2 tbs water
 Instructions:
Roughly chop onion.
Combine flour and 1 tbs chili powder in plastic food bag. 
Add pork chops and toss to coat.
In nonstick skillet, large enough to hold the chops, heat 2 tsp oil over medium-high heat.
Add chops and sauté about 3 minutes per side, until lightly browned.
Remove and set aside.
Add remaining 2 tsp oil and the remaining 1 tbs chili powder.
Sauté for 1 minute, then add onions. 
Sauté about 5 minutes until onion starts to brown.
Add tomato sauce, broth, Worcestershire, mustard and bring to a boil.
Add cornstarch mixture and cook, stirring constantly until thickened.
Reduce heat to low and return chops to pan.
Cover, and simmer chops until done, about 10 minutes, turning once.
Serve chops with sauce and onions.