Pork Chops Creole
Total time: 40 minutes
    Use boneless chops for this if you can get them.  The lively sauce keeps them tender even though they are only simmered 20 minutes or so..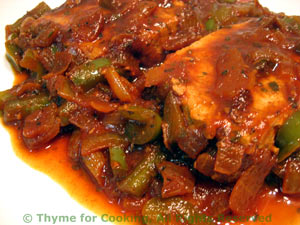 Ingredients:
2 - 4 pork chops, depending on size, 12oz (360gr) boneless weight
1 tbs olive oil
1 medium onion
1/2 green pepper
4oz (120gr) mushrooms
2 cloves garlic
1/3 cup (3oz, 90ml) ketchup
1 tbs Worcestershire
1 tsp chili powder
2 tbs chicken stock
1 tsp oregano
 Instructions:
Mince garlic. 
Cut onion into quarters and slice thickly. 
Thickly slice green pepper, then cut slices in half. 
Clean mushrooms and slice. 
In medium nonstick skillet heat oil over medium-high heat. 
Sauté pork chops until lightly browned, about 3 minutes per side.  Remove and set aside. 
Add chili powder, garlic, onions, pepper and mushrooms to pan and sauté 5 minutes. 
Return chops to pan.  Spread ketchup and Worcestershire sauce over top.  
Add stock and bring to a boil.  
Reduce heat to low, cover and simmer 20 - 30 minutes, turning once and stirring sauce, until chops are done and tender.  
Serve.