Butternut Squash Timbales with Mushrooms
Braised Lamb with Red Peppers
Roasted Potatoes
Braised Lamb with Red Peppers
Total time: 1 hour 15 minutes
    The red peppers and orange carrots combine for a very vibrant dish - both in color and flavor. You could substitute pork.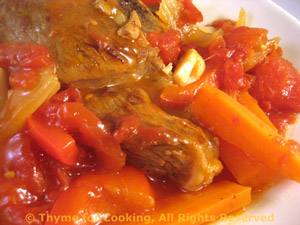 Ingredients:
12oz (360gr) boneless lamb, shoulder or leg meat
1/2 red pepper
2 medium carrots
1 medium onion
1 cup white wine
1 tsp paprika
1/4 tsp cumin
8 garlic cloves
15oz (450gr) whole tomatoes, drained, no sauce
1 tbs olive oil
 Instructions:
Slice onion.
Peel garlic, but leave whole.
Cut pepper and carrots into matchsticks.
Drain tomatoes, reserving juices for another use.  Roughly chop tomatoes.
Cut lamb into large pieces and trim excess fat.
Heat oil in a heavy pot or Dutch oven with tight-fitting lid.  Add onion, sauté until browned and starting to get crisp, remove.
Add lamb and brown on all sides.
Return the onions to the pot, add spices, pepper, carrots, garlic, wine and tomatoes.
Cover, turn heat to low and braise for 60 minutes. 
When done, spoon meat and vegetables onto a platter and serve.