Baked Goat Cheese with Dates and Nuts
Braised Lamb with Chickpeas and Butternut Squash
Simple Couscous
Braised Lamb with Chickpeas and Butternut Squash
Total time: 1 hour 15 minutes
    This is meant to be like a tagine - which is the name of both the method/type of cooking and the conical-shaped dish they are made in.  This should be thick and chunky, with little visible liquid remaining. Couscous is the traditional accompaniment.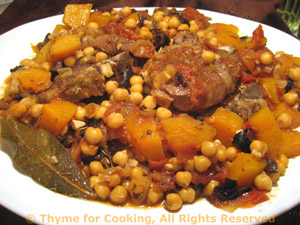 Ingredients:
 Instructions:
Slice shallots; mince garlic.
Drain and rinse chickpeas. 
Pit olives if needed and roughly chop. 
Cut lamb into large pieces and trim excess fat.
Heat oil in a heavy pot or Dutch oven with tight-fitting lid. 
Add lamb and brown on all sides. Remove and set aside.  
Add the shallots, garlic, paprika and sauté until tender and starting to brown, about 5 minutes. 
Return the lamb to the pot, add herbs, wine, tomato, chickpeas and squash. 
Cover, turn heat to low and braise for 60 minutes.  
When done, spoon meat and vegetables onto a platter and serve.