Grilled Ham with Red-Eye Glaze
Barley Pilaf
Grilled Zucchini (Courgette)
Grilled Ham with Red Eye Glaze
Total time: 15 minutes
    A Southern Classic, moved to the barbecue grill.  The glazed is boiled to reduce it a bit, then used both to baste the ham and as a finishing sauce.  As the ham is already fully cooked, this is a very quick dish.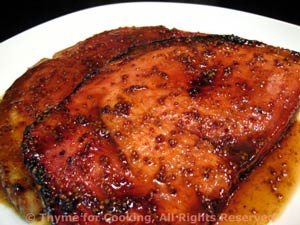 Ingredients:
 Instructions:
Mix sugar, coffee, mustard and vinegar in a small saucepan. 
Boil for 5 minutes, reducing by half. 
Cook ham on the barbecue grill, 5  - 7 minutes per side, basting with the Redeye Glaze until ham is a lovely mahogany color. 

Or

sauté in olive oil in nonstick skillet for same amount of time - until it starts to brown. Pour any remaining glaze over the ham and serve. .

 

As ham is cooked there is no problem using basting sauce to finish

.