Leek Gratin
Lamb Chops with Lemon and Rosemary
Roasted or Grilled Sweet Potatoes
Baked Tomatoes
Grilled Lamb Chops with Lemon and Rosemary
Total time: 35 minutes
    Is there a better match than lamb and rosemary?  This simple marinade, with a bit of soy sauce and garlic, imparts a lot of complex flavors to our lamb chops.  Great grilled but equally good done indoors.  A grill pan for your stove top is nice but a hot nonstick skillet works fine.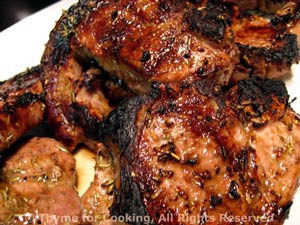 Ingredients:
4 - 6 center-cut lamb chops - depending on size
2 tbs lemon juice
1 tbs soy sauce
2 tbs oil
1/2 tsp garlic powder
2 tsp rosemary
 Instructions:
Mix lemon juice, soy sauce, oil, garlic powder and rosemary. 
Pour over lamb chops and allow to marinate for 15 - 30 minutes. 
Remove chops and discard marinade. 
Either cook on barbecue grill or in a non-stick skillet over medium-high heat.  In either case you will cook chops for 2 - 5 minutes a side depending on thickness and desired degree of doneness (I don't know if that is a word - but you get the idea).  We do ours on a hot grill 2 minutes a side for medium rare.  When you think they might be close take one off, cut into center and peak.  You can always put them back on to cook more - you cannot undo... When done to your liking remove from heat and serve.