Recipe in:
One Dish Dinners
  (Stir-Fries and Skillet Dinners)
Stir-Fried Pork with Snow Peas (Mangetout)
Total time: 25 minutes
     Snow Peas are traditional in Asian stir-fries.  They stay crisp and green, adding both texture and color to the dish.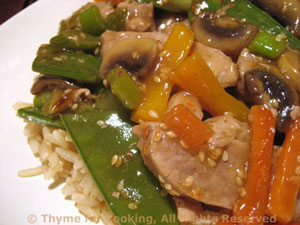 Ingredients: 
 Instructions:
Rice:
Melt butter in small saucepan over medium heat.  Add rice and sauté, stirring for 2 - 3 minutes. 
Add stock or water.  Cook rice for length of time on package.  When done fluff with fork.
Stir-Fry:
Thinly slice onion. 
Mince garlic. 
Julienne the pepper (techniques). 
Cut the carrot into matchsticks. 
Trim snow peas. 
Cut the pork into strips bite-size pieces. 
Heat olive oil in large nonstick skillet over medium-high heat.  
Add onion, pepper, carrot to skillet and stir-fry for 2 minutes. 
Add garlic and stir-fry another 2 minutes.  Remove onion/pepper/garlic from pan and set aside. 
Add sesame oil to pan and heat.  Add pork and stir-fry 3 - 5 minutes, until nicely browned. 
Remove and put with onions. 
Add snow peas to skillet and stir-fry 1 - 2 minutes. 
Return everything to the skillet. 
Add chicken stock, sherry and bring to a boil.  
Dissolve cornstarch in soy sauce.  Add cornstarch mixture to pan and stir until thickened.  
Serve over Basmati Rice.