Recipe in:
One Dish Dinners
  (Stir-Fries and Skillet Dinners)
Stir-Fried Chicken and Broccoli with Barley
Total time: 25 minutes
    I use quick-cooking barley... Yes, I know, not as healthy as the slow variety, but still good! Toast the sesame seeds first if they are not already toasted.  Add crushed red pepper flakes if you like some heat, and/or use a hotter mustard.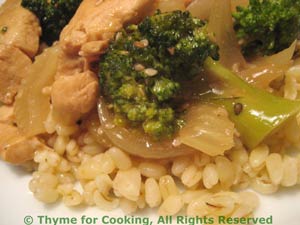 Ingredients:    
2 chicken breasts, boneless, skinless
1 onion
2 cloves garlic
2 ribs celery
1/2 head of broccoli
3 slices ginger, peeled
1/3 cup (3oz, 90ml) sherry
2 tbs soy sauce
2 tbs red wine vinegar
1 tbs Dijon-style mustard
2 tsp brown sugar
2 tsp sesame seed oil
2 tsp olive oil
1/2 cup (4oz, 120ml) chicken stock
1 tbs cornstarch (maizena, corn flour)
1 tbs sesame seeds, toasted
Barley
2/3 cup (3.3oz, 95gr) barley, quick-cooking
1 1/3 cup (11oz, 330ml) chicken stock
 Instructions:
The prep: 

In a small bowl mix the sherry, soy sauce, vinegar, mustard and sugar.
Cut chicken into bite size pieces.  Add to the bowl with the sauce, stir to coat.
Cut the broccoli into small florets with a bit of stem.
Vertically slice the onion.
Cut celery into 1/4 inch slices.
Mince the garlic and the ginger.
Dissolve the cornstarch in the chicken stock and set aside.

To cook: 

In a large skillet or wok heat half of both oils over medium-high heat.
Add celery, onion, and stir fry 3 minutes.
Add garlic, ginger, broccoli and stir-fry 2 minutes more.
Transfer vegetables to a plate.
Add the rest of the oils to the skillet.
Remove chicken from sauce, reserving sauce, and stir fry 3 minutes.
Return the vegetables to the pan and add the reserved sauce.
Bring to a boil.  Reduce heat, cover and simmer for 3 - 5 minutes longer, until the broccoli is just tender, but not over done.
Give the cornstarch/stock a stir to recombine and add it to the pan, stirring constantly until thickened.
Stir in sesame seeds.
Serve over barley.
Barley 
Cook barley in chicken stock, covered, over medium-low heat until done.
To toast sesame seeds:  Put them into a dry, nonstick skillet over medium heat.  Toss or stir them about in the pan until lightly golden, about 5 minutes.