Chicken Vegetable Barley Soup
Total time: 120 minutes
    You can use a whole fryer or any chicken parts to make stock.   If you use a whole chicken you should have stock left to freeze for other uses. The barley that I get is (I think) partially pre-cooked so it cooks in about 20 minutes. Regular pearl barley takes about 45 minutes.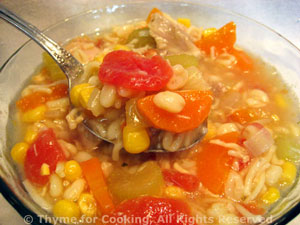 Ingredients: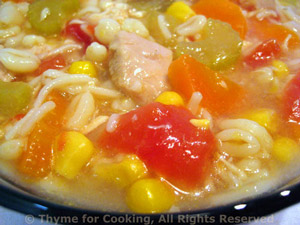 Instructions:
The stock:
Cut the vegetables into large chunks.  If you are using celery tops, use them all, including the leaves. 
Put chicken, vegetables, herbs and water in soup pot or Dutch oven. 
Cover, bring to a boil, reduce heat and simmer for an hour if using breasts, 2 or 3 hours if using a whole chicken.
When done, strain stock, discarding vegetables and reserving chicken. 
If time allows, chill stock and remove fat.
Refrigerate chicken if not making soup immediately.
The soup:
Bring stock to a boil over medium heat. 
Cut carrots in half, the long way then thinly slice. 1/8" (3 cm).  Add to stock. 
Thinly slice celery, add to stock. 
Chop onion, add to stock. 
Open and drain sweet corn and add to stock. 
Add barley to stock. 
Cover and simmer - may need to reduce heat a bit.  Let simmer for 30 minutes. 
Open tomatoes and drain.  Chop tomatoes and add to soup. 
Add chicken to soup.  Cover and simmer 15 minutes longer. 

Now:

  Too thick?  Add more stock.  Too thin?  Add 1/3 cup vermicelli  (cooks fast and thickens nicely). Serve.